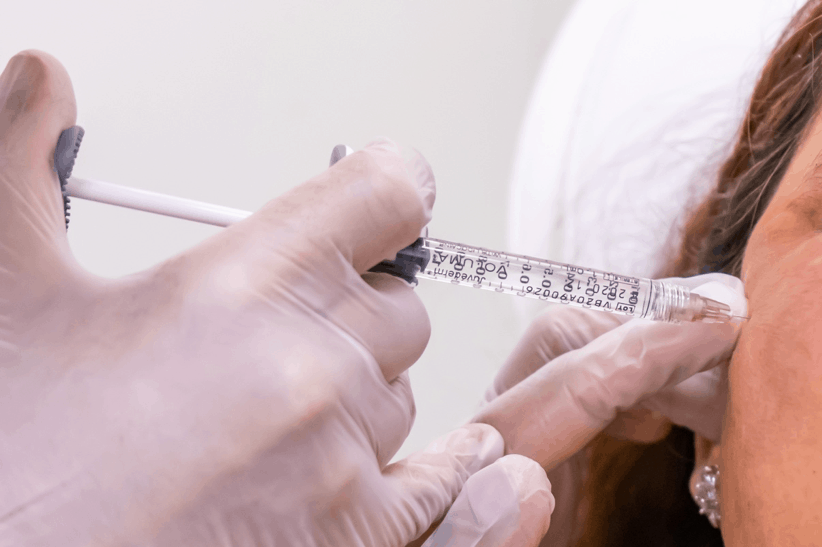 What Is the Best Dermal Filler?
With an increase in popularity of fillers, there is also an increase in different products on the market. This may become confusing for someone trying to choose the best filler to fit their needs. Luckily, Elham Zarnegar, Essential Aesthetic's experienced practitioner, has over 15 years of experience with numerous fillers, making her the perfect resource to help you decide which dermal filler is right for you.
Read on to learn more about the types of dermal fillers offered at Essential Aesthetics.
Restylane works by increasing water absorption, creating an increase in skin volume. The original Restylane is used to add volume and fullness to the skin, correcting moderate to severe facial wrinkles and folds. Restylane Lyft is used to add back lost volume to areas such as the cheeks and is also FDA approved for use on the hands. Restylane Refyne and Defyne are used to smooth out and fill in the lines mainly around the mouth. Refyne and Defyne can also be used on the décolleté and neck areas to smooth the lines and wrinkles.
The main ingredient in Restylane products is hyaluronic acid. The injection of hyaluronic acid stimulates collagen production, as it is a naturally occurring sugar in the body.
Results from Restylane can last up to 18 months, depending on the type of filler used and the individual.
Like Restylane, Juvederm is made of hyaluronic acid and also consists of a family of products that are used to treat different areas. Juvederm Ultra and Ultra XC are great for adding volume or plumping up your lips. Juvederm Volbella also is an option for adding volume to the lips and softening lip lines. It can also be used to treat under-eye circles since it does not absorb much water, leading to less swelling overall. Juvederm Vollure smooths lines around the nose and mouth area. Juvederm Voluma adds volume to lift and contour the cheek area. Juvederm injections can last from 9 months to 2 years depending on the type of filler used and the individual.
Sculptra is different from Restylane and Juvederm because it is made from a completely different material: Poly-L-Lactic Acid. This is a synthetic compound that encourages the formation of new collagen. Originally used to treat patients with HIV who had loss of facial fat, Sculptra is now approved to treat anyone with sunken cheeks, hollow or sunken areas of the face, or folds and lines. Sculptra takes a series of injections usually spaced out 4-6 weeks apart to achieve desired results. Sculptra can also be used to diminish cellulite and enhance the buttocks, which is often referred to as a "liquid buttlift".
Are you ready determine which dermal filler is best for you? Schedule a consultation or contact us today!