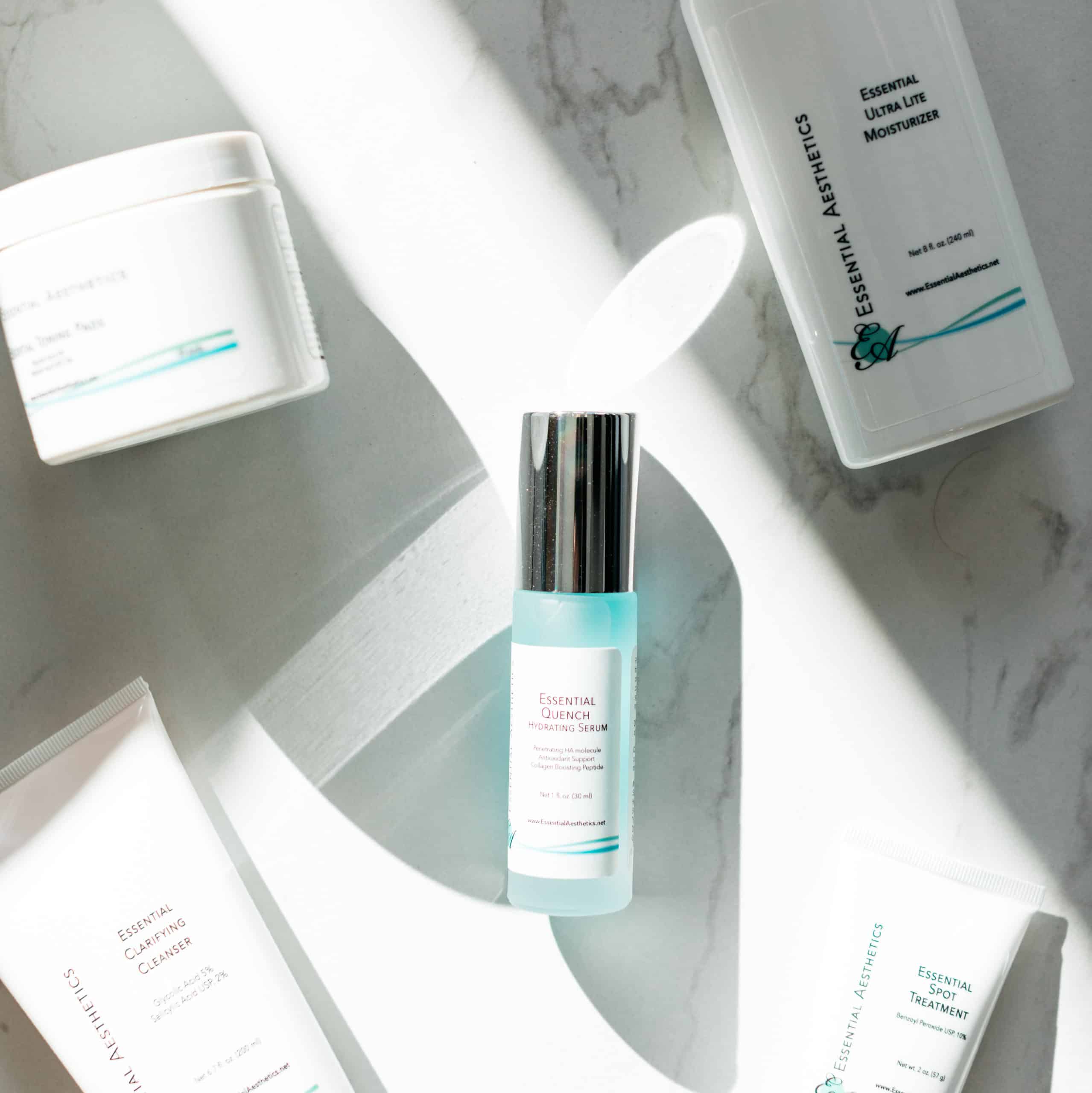 April Special 2021
Indulge in Essential Aesthetics skincare this month. Receive 30% off our Essential Quench Serum!
Our exclusive, therapeutic skin care line uses the highest form of purified ingredients to unlock your best skin.
Essential Quench Serum: Our serum is ultra-hydrating and made with fractionated hyaluronic acid to quench dehydrated, dull skin and give you a supple, smooth, and plump-looking complexion. It helps visibly reduce aging signs by protecting your skin against free radicals. After applying it twice daily for two weeks, your skin will look brighter, firmer, and rejuvenated.
Is it safe to use hyaluronic acid on a daily basis?
Hyaluronic acid is safe and useful to use on a daily basis to keep skin hydrated. You simply need to ensure that you are using it correctly. As a general rule, apply your hyaluronic acid product to clean, damp skin before sealing it in with a moisturizer and face oil. Long-term application of hyaluronic acid serum to the skin or as a supplement taken orally can improve overall skin health.
What are the advantages of using a hyaluronic acid serum?
Hyaluronic acid allows skin to stretch and flex while also reducing wrinkles and creases. Hyaluronic acid has also been shown to speed up wound healing and minimize scarring. Since the skin is not battling for water while it is protected and hydrated, more skin cell creation may occur. This results in skin cells that are smoother and plumper.
Interested in learning more about the Essential Aesthetics skincare line? Call or text us at 925-855-1773 or request a consultation online! The special is valid from April 1–30, 2021. You must mention this special when purchasing. Our Danville location is conveniently located for clients traveling from Walnut Creek, Blackhawk, Dublin, Livermore, and the surrounding Bay Area!