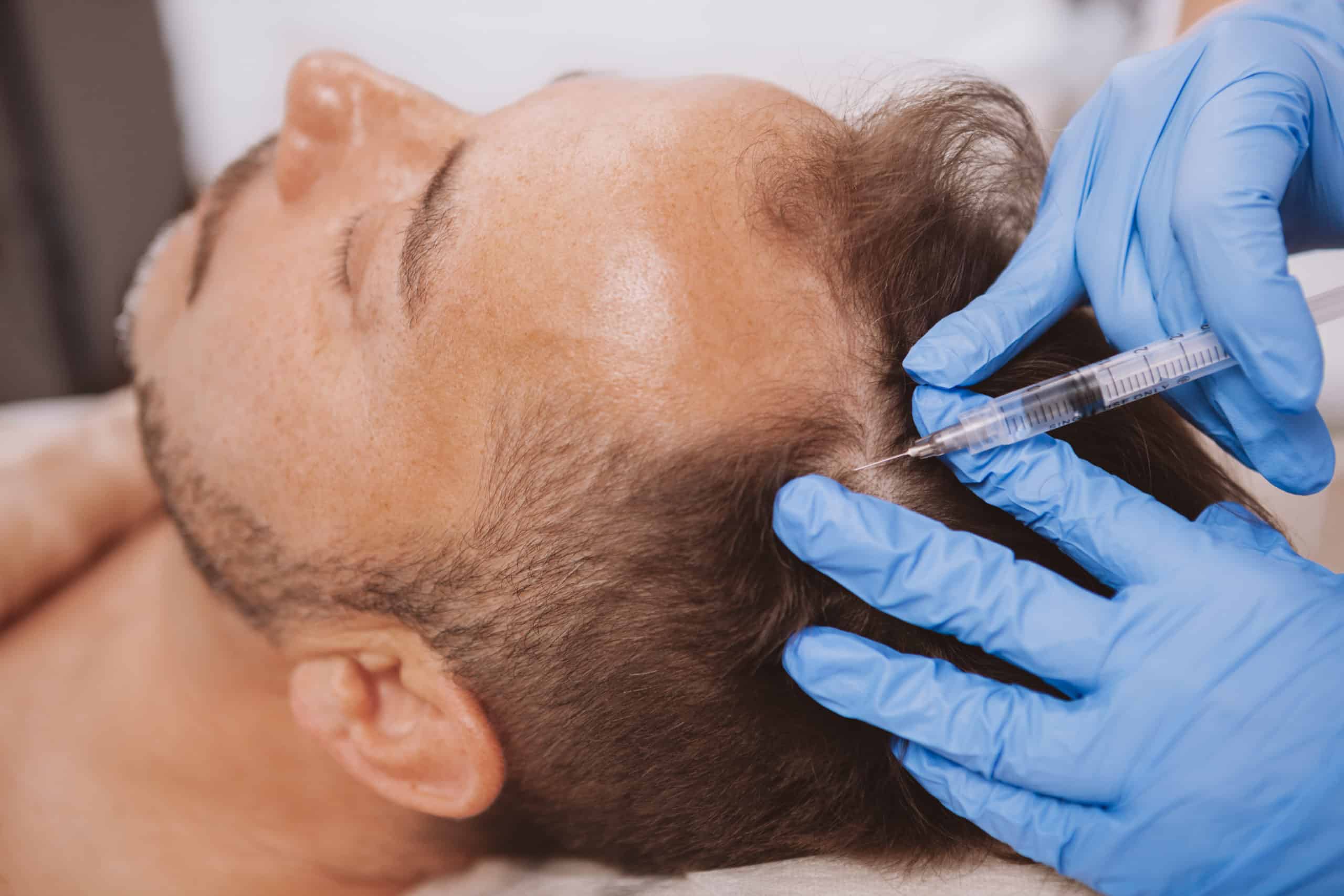 August is National Hair Loss Awareness Month
Millions of men and women are impacted by hair loss every day in the United States. Continue reading to learn more about the various causes of hair loss and treatments we offer at Essential Aesthetics to help.
What is the Cause of Hair Loss
On average, an individual loses 50-100 hairs a day as a part of the hair growth cycle. However, if you notice bald patches or thinning hair, you may suffer from a hair loss condition. There are various reasons for hair loss such as:
Genetics: This is the most common reason for the reduction of hair and can come from either side of the family.
Hormones: Abnormal levels of hormones such as androgens can contribute to hair loss.
Medical Conditions: Conditions such as anemia, diabetes, eating disorders, lupus, and thyroid problems can cause hair loss. The good news about this is that once the condition is treated, the hair usually returns.
Diet: A lack of iron-rich foods in your diet can impact your body's ability to produce hair. Weight loss and weight gain can also lead to temporary hair loss.
Stress: After an emotional or physical shock, individuals may experience thinning hair.
Treatment for Hair Loss
Prescription medications, such as Rogaine, may be used to treat hair loss, however, they are often partially effective and carry the potential for unwanted side effects. Surgical hair restoration is another option, but can be expensive and doesn't treat the underlying medical problems.
At Essential Aesthetics, we offer Platelet-Rich Plasma (PRP) treatments for hair restoration.
How PRP Works
Our platelets contain healing growth factors that give instructions to the tissue to regenerate and multiply. Growth factors and stem cells work together to reverse the miniaturization of hair follicles and jump-start dormant hair back into the growth stage. PRP for hair regrowth works in various ways:
Increases the blood supply to the follicle.
Increases hair shaft size (thickness).
Triggers and maintains the growth phase.
Controls hair growth cycle.
Decreases hair loss.
What to Expect
This treatment involves using your body's own platelets in a very easy three-step process:
PA Ellie Zarnegar begins by drawing your blood into a special collection tube and places it into a centrifuge.
After the platelets are separated, the PRP is drawn up into a syringe.
Using a small needle, PA Ellie strategically injects the platelets into your scalp in the areas that need improvement.
There is no downtime after this treatment, and you may return to your normal daily activities. It is advised to avoid using any harsh dyes or chemicals on your hair 48 hours after treatment.
Ready for a More Confident You?
Are you ready to feel more confident? Call or text us at 925.855.1773 today or book a consultation online to visit our Danville, CA office. We treat patients from all over the Bay Area such as Walnut Creek and surrounding cities and counties.