Botox Party at Essential Aesthetics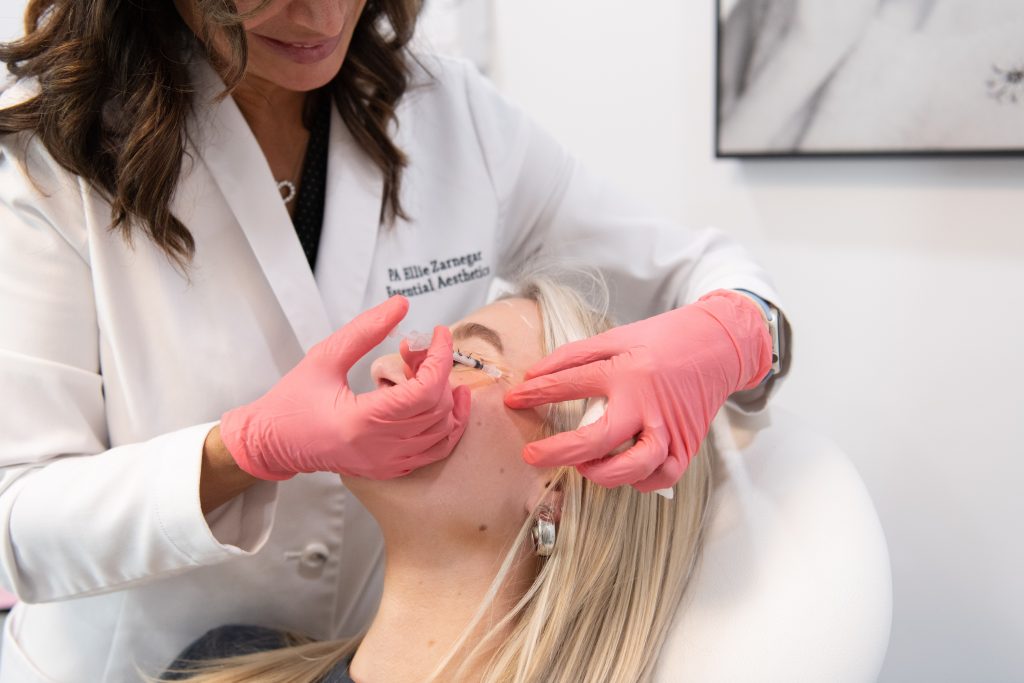 Are you and your friends looking for an opportunity to get out of the house, socialize, and rejuvenate your skin? Host your next Botox party at Essential Aesthetics! You and your guests can enjoy the benefits of Botox while spending time together. Book now and bring five friends to be treated to receive your own Botox treatment for free. Our office provides a safe and comfortable environment for you and your guests to enjoy your Botox party. Contact us today to book your next party and get ready to look and feel your best!
What is a "Botox Party"?
A Botox party, also known as a "Botox bash" or "Botox event," is a social gathering where people undergo Botox injections or other cosmetic procedures. Botox is the brand name for a type of botulinum toxin that is used to temporarily minimize the appearance of wrinkles and fine lines by paralyzing or relaxing the facial muscles.
Who hosts a "Botox Party"?
Medical professionals who are qualified to administer Botox injections frequently host these events. Botox parties are intended to establish a comfortable and sociable environment where people can receive cosmetic treatments in a group rather than a clinical setting. Botox injections are often administered to participants while they mingle with friends or acquaintances. While Botox parties can be a fun and social way to receive cosmetic treatments, they should be done with caution. To ensure the safety and efficacy of cosmetic procedures such as Botox injections, skilled and licensed medical experts should perform them in a sterile and clean environment. If you are seeking Botox or other cosmetic procedures you should speak with a trained healthcare aesthetic provider about their options so that they can make informed decisions about their looks.
Are these Botox Parties Legal?
In California, Botox injections aren't restricted to a certain setting. The only requirement is that the treatments be administered by a physician, RN, NP, or PA. Although cosmetic Botox injections are generally considered safe, it may not be safe to receive such treatment at a home party.
Frequently Asked Questions:
"What is a Botox party?"
A botox party is a social gathering at a home or office that provides guests with wrinkle-smoothing injections.
"Are botox parties safe?"
Botox parties usually come with specific guidelines to ensure a safe and successful treatment.
"What do Botox injections do?"
Botox is a botulinum toxin type A administered for three to four months to soften and relax face lines and wrinkles. We may offer numbing cream to guests to ensure their comfort while receiving injections.
"Are there any side effects from having Botox?"
After drinking alcohol, there is an increased risk of bruising following Botox injections. The provider may not take the necessary steps to ensure a safe Botox injection. As such, you could react negatively to the treatment. If you experience side effects in a clinical setting you can receive immediate medical attention and appropriate treatment. However, if you're at a home party, the provider may not be equipped to meet your needs.
If you are interested in Botox Cosmetic in Danville, California, please call or text Essential Aesthetics at 925-855-1773 or request a consultation online! Our Danville office is perfectly situated for clients from Livermore, San Ramon, Orinda, Alamo, and Walnut Creek!