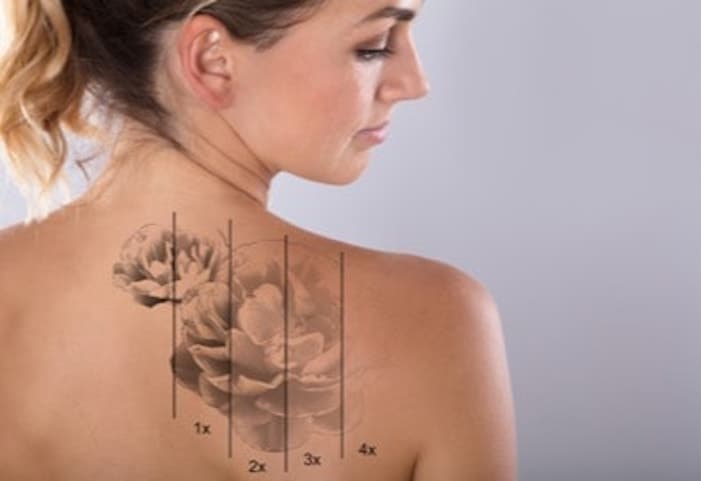 Laser Tattoo Removal Facts
Been thinking about removing the unsightly tattoo on your ankle? Hate the tattoo encircling your wrist? We understand. Sometimes the choices we make when we're younger don't reflect the people we become as we grow older.
To correct your youthful indiscretions with ink, we offer laser tattoo removal. Read on to learn the answers to common questions people have about this safe, effective procedure.
How Does Laser Tattoo Removal Work?
The inks used in tattooing consist of solid particles. Whether these particles  can be removed depends on the tattoo's depth within the skin, as well as the ink type and color.
At Essential Aesthetics, we use the Lumenis M22 laser for tattoo removal. This laser type releases short bursts of intense energy, causing the tattoo ink to expand. During the expansion, the ink fragments gradually become shallower until they fade away.
How Many Laser Tattoo Removal Sessions Will I Need?
Most patients require 3-10 laser tattoo removal sessions. The number of sessions you'll need will vary based on:
Tattoo Color – Some colors respond better to laser treatment than others. Generally speaking, black, red, green, and deep blue colors are easiest to remove, whereas purple, brown, light blue, and orange may require more sessions.
Length of Time You've Had the Tattoo – Older tattoo ink is usually easier to break apart than newer ink.
Tattoo Size – The larger your tattoo, the more laser tattoo removal sessions you'll need.
Skin Tone – It's typically easier to remove tattoos with lighter skin tones than darker ones. However, the laser being used will impact results. At Essential Aesthetics, for example, our laser is effective for darker skin tones, and it also works on hard-to-treat colors.
How Far Apart Should Laser Tattoo Removal Sessions Be Scheduled?
Between laser tattoo removal sessions, your skin will need time to heal. So, for the best results, your appointments should be scheduled 4-6 weeks apart.
Does Laser Tattoo Removal Hurt?
At Essential Aesthetics, we use a laser that minimizes skin damage, textural changes to the tissue, and scarring. Still, some patients do experience discomfort. To make the session as pain-free as possible, a topical anesthetic can be applied to your tattoo prior to laser removal.
How Do I Know If Laser Tattoo Removal Is Right for Me?
To determine whether you're a good candidate for laser tattoo removal, we encourage you to come in for a complimentary consultation. During your appointment, Clinical Director Ellie Zarnegar, DMSc, PA, will evaluate your tattoo and discuss the results you can expect from treatment.
How Can I Schedule a Laser Tattoo Removal Consultation at Essential Aesthetics?
If you'd like to be evaluated for laser tattoo removal, it's easy to request a consultation with Essential Aesthetics. Simply call us at 925.855.1773 or submit your request online.  We're pleased to offer early evening and weekend appointments.
Our Danville medical spa is conveniently located just a few blocks from I-680 and offers ample free parking.