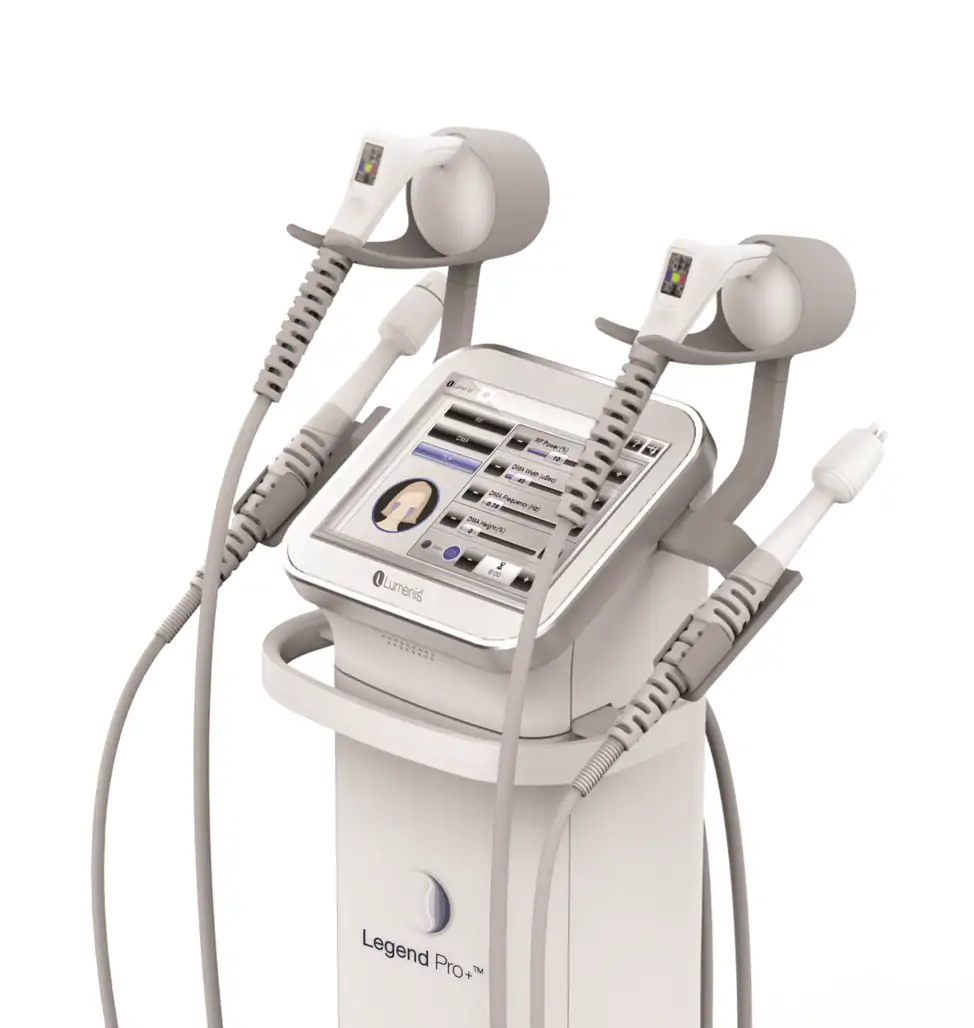 Radiofrequency (RF) Microneedling
What is RF microneedling?
At Essential Aesthetics, we use a radiofrequency (RF)-assisted microneedling device to boost the regeneration of collagen and elastin fibers in the deeper dermis. With the capacity to treat a variety of skin types and aesthetic concerns, this technology enables us to customize the best treatment for each patient. During the procedure, the device triggers the body's healing response in order to spark cellular turnover, revealing radiant and smooth skin.
How does RF microneedling work?
Radiofrequency Microneedling applies radio waves to heat the dermal layer of the skin. This stimulates the production of collagen and elastin by causing small skin injuries. Connective tissue is composed primarily of collagen, which provides skin with its elasticity and strength.
Elastin holds the skin together and gives it elasticity. Therefore, radiofrequency needling serves to tighten the skin. The thermal effect of radiofrequency is highly beneficial for skin laxity-prone areas such as the jawline, neck, and chest.
When can I expect to see results from RF microneedling?
The effects of RF microneedling occur almost immediately after your session. The treatment is scientifically designed to stimulate collagen production beneath the epidermis. Collagen is something that we lose as we age, resulting in sagging skin, but we can stimulate the production of new collagen by making microneedle and radiofrequency abrasions on the face.
Am I qualified for RF microneedling treatment?
If you are concerned about fine lines and wrinkles, acne scars, and uneven or rough skin tone, microneedling could be the solution for you. Our radiofrequency (RF) device offers non-ablative skin rejuvenation, which is excellent for tightening the skin, evening out tone and texture, and diminishing the look of dark spots.
What should I expect following RF microneedling?
As a non-invasive alternative to cosmetic surgery, RF microneedling restores mild to moderate skin laxity and requires minimal downtime. After a few days, the top layer of your skin will have repaired itself, and you can resume using your regular hygiene products. Most people can continue with their normal activities after treatment. A series of treatments are usually recommended. We typically space microneedling treatments 2-3 months apart to ensure proper recovery and allow the skin to rebuild new collagen.
How long until I see the final results?
A single treatment session of RF microneedling can yield a noticeable result, such as tighter and smoother skin. However, the results will continue to improve throughout treatment and throughout the subsequent months following the delivery of the procedure. A touch-up treatment may be required every 2-3 months to maintain and achieve optimal results. Between treatments, we recommend using gentle skincare products and suitable at-home care.
Enhance the appearance of your skin today! To book an appointment, call or text our clinic at 925.855.1773 or request a consultation online.